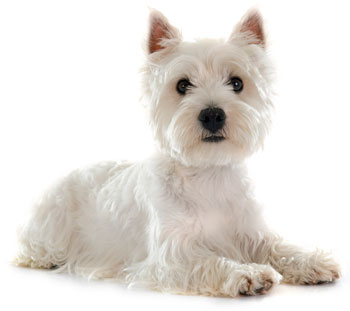 While a member of the sporting group took Best in Show at this year's Westminster Kennel Club Dog Show held in New York City, across the pond it was a terrier who earned the crown. The Westie, formally named "Geordie Girl" but known as Devon, beat out thousands of other canine competitors. In addition to being shown by the youngest handler participating, it was also the owner-handler's first time at Crufts. The win marks the first Crufts best in show title for the breed since 1990.
Considered Great Britain's cousin to Westminster, Crufts is a four-day event topped off with an equally world famous dog show. The difference between the two, however, goes much deeper than where they are held.
A Brief History Lesson
Now in its 125th year, Crufts is one of the biggest dog shows in the world. It was founded in 1891 by Charles Cruft, an incredibly successful dog biscuit salesman. Through becoming such a big name in the world of dog treats, Crufts soon found himself in the role of secretary for various "fancy dog show" groups – the Toy Spaniel, Pug, Setter, Borzois and St. Bernard. With a growing workload and a large enough network of influence to simply consolidate and start his own show, he decided to do just that.
Having just marked its 140th year, the Westminster Dog Show got its start more than a decade before Crufts – in 1877. It began as a show for gun dogs, with prizes including pearl-handled pistols. Originally put on by the Westminster Kennel Club, it is now hosted by the American Kennel Club.
What's the Difference?
Although both shows aim to name a best in show dog which exemplifies purebred breed perfection, the atmosphere and itinerary for the shows differ in many ways.
Whereas the Westminster Dog Show is just that, a dog show, Crufts is more akin to a canine festival. Both purebreds and mixes are welcome and there are many events to participate in outside of the pedigreed main event. With activities ranging from obedience and agility, to racing, duck herding, dancing, and a crossbreed "Scruffts" competition, Crufts is a celebration of all dogs rather than a prestigious arena reserved solely for the best of the best. The event even includes more than 300 vendor stands offering special treats and products for sale to attendees.
The Westminster is a much more formal affair and only features AKC purebreds. Considered the "Super Bowl of Dog Shows" in America, Westminster is far from the largest dog show in the world. While it sees about 2,800 contestants, Crufts sees more than 22,000 canine attendees from more than 40 different countries. The Westminster is, however, the largest dog show in America and is the second-longest continuously held sporting event in the country.
The two shows vary with some breed standards and how they group dogs. The seven British Kennel Club pedigree groups include those of gundog, utility, and pastoral instead of sporting, non-sporting and herding, alongside the shared hound, toy, working and terrier groups.
| | | | | | | | | |
| --- | --- | --- | --- | --- | --- | --- | --- | --- |
| 2016 Results | Best in Show | Sporting/ Gundog | Non-Sporting/ Utility | Hound | Working | Herding/ Pastoral | Terrier | Toy |
| Westminster | German Shorthaired Pointer | German Shorthaired Pointer | Bulldog | Borzoi | Samoyed | German Shepherd | Skye Terrier | Shih Tzu |
| Crufts | West Highland White Terrier | Gordon Setter | German Spitz | Whippet | Bouvier des Flandres | Border Collie | West Highland White Terrier | Pekingese |